Friends, we are thrilled to update you on our latest news! VinoWine/Reserve is proud to announce that we have officially merged with the Virginia Wine Pass! So what does this mean for you? It means on top of featuring Virginia's wineries in the VinoWine app, and pouring Virginia's best wines in the Reserve tasting room, we will now be able to provide you with Virginia's hottest discounts and deals from wineries all across the commonwealth! 
If you're not familiar with the Virginia Wine Pass they are a unique wine passport subscription to deals and upgrades at 150+ wineries and cideries across Virginia. As a Wine Pass cardholder, you and a guest will be able to enjoy exclusive and unlimited freebies and upgrades at Virginia's premier wineries and cideries.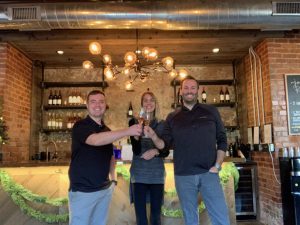 The merger of these two companies means a couple of great things – by combining the Wine Pass's deal network with VinoWine's nationwide app and winery infrastructure, our company will not only highlight the wineries around you, but also highlight great local deals that are available to you and your friends! To accomplish this feat, we will be merging all VinoWine and Wine Pass operations and products under the "Reserve" brand and creating the new Reserve app that is now in the works! Our app will combine all of VinoWine's app functionality and Virginia Wine Pass's deals in one easy-to-use experience.
We invite you to follow our progress along the way as we announce our updates on future blog posts and social media accounts. We'd like to thank Melanie Simpson, of the Virginia Wine Pass, for sharing the vision of what our combined companies can and will accomplish going forward.
Cheers to you and your families and here's to a great 2022! 🥂
-Mike & Mike